We have some great deals on some remaining True-Temper Supertherm Quicksilver's and Trackfighter frames .
So if your looking to get rolling on a Nemesis Project frame at a great price now's your chance !!
These great prices wont last long as the new webstore is about to launch in the next week .
We are also offering our new Plymouth supermoly Trackfighter frames for $500 introductory offer , suggested retail will be $600.00
These are available in White , RAW and custom colors upon request .
The Plymouth Trackfighter frame features USA made Plymouth supermoly main tubes , Integrated 45x45 headset , MID BB standard. Frame accepts 40c+ tires front and rear , minimal BB drop for easier spins and quicker acceleration for big street tricks and polo sprints .
FRAMES FOR SALE !!!
TrackFighter 700c "fixed gear freestyle" frame white 48cm Long
Listed with free shipping for $750.00
Frame features :
45x45 integrated headset
Spanish BB
Frame geo:
74.0HA , 75.00SA , 392.50mm chainstay , 48cm seattube , 59.00TT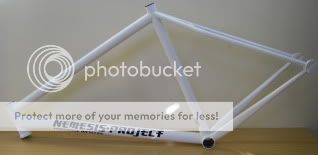 Quicksilver track frame:

56cm frame size , gloss white w/ black decals listed at $750 w/ free shipping
Design as our flagship fixed gear frame offering the Quicksilver is at home crushing ally cat's and killing kitties conversion's from it's home in Sacramento all the way to Geneva Switzerland taking it's prize money straight to the bank . This handbuilt fixed gear frame was inspired by the 80's flick of the same name .
This frame features :
TrueTemper Supertherm main tubes
*NEW* Nemesis Project Externally butted fallopian seattube w/ bonded 7075 insert
45x45 internal standard headtube cnc machined
Nemesis Project cnc machined hooded MICRO DROPS
Tapered seatstays and chainstays
Secret Agent
listed at $650.00 buy it now . The Secret Agent is our
flagship
MTB 4x frame refined and now available with
ISCG 05 tabs
Designed as the perfect everyday DJ , 4x MTB the Secret Agent features a integrated der hanger rear dropout , True-Temper Supertherm and OX platinum tubeset , gusset's at the headtube on both the top and bottom downtubes
Frame geo : 22.75TT measured center to center / 70' Head-Angle / 70' Seat-Angle / 12" standover / 15.88" chainstay measured center to center
We also have a few set's of our
Handlebars
up for sale for $55.00 on SALE until the full webstore launches with the v2 bars .